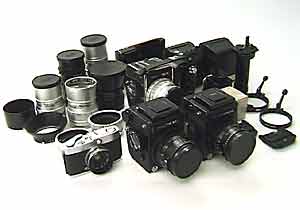 Kowa took first step manufacturing camera with KalloFlex Automat in 1954, and since then, Kowa had manufactured camera for twenty-five years. In 1974, Kowa introduced its last camera, Kowa Super 66.

By the way, Kowa Six, the first model of Kowa Six series, was also the first domestically 6x6cm format leaf-shutter camera in Japan and it surprised people of its unique vertical shaped body when it was introduced.
A large number of interchangeable lenses were provided with Kowa Six series from fish-eye lens at focal length of 19mm to telephoto lens of 500mm. Beside interchageable lenses, various kinds of accessories were prepared for the series.

In 1972, Kowa Six MM, an upgrade version of Kowa Six to which mirror-up and multiple-exposure function were added, came on the market, then followed Kowa Six II in 1973 that adopted interchangeable film back system. For the last, Kowa Super 66 in 1974 on which film back changing operation was simplifed.

Well then, let's take a look at overall system of Kowa Six series.







---