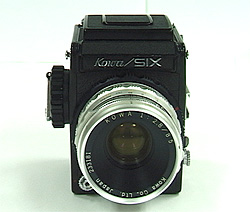 Kowa SIX was launched in 1968, targeting the professional and high-amature photographers.
Although the camera doesn't equip with either the quick return mirror or the interchangable film back system, both 120 film (12 exposures with 6x6cm format camera) and 220 film (24 exposures with 6x6cm format camera) are available for this camera and also this equips with the self-cocking device.
In addition to this, film loding is easy because the camera has the start mark for it.
In 1970, the upgrade version of Kowa SIX was introduced. Improvements were as follows:


focusing hood are folded with one step by raising the hood at the top.
magnifier is replacable for the eyesight adjustment one.

Kowa SIX MM and Kowa SUPER66 were also produced as Kowa SIX series.

Viewfinder : interchangalbe
waist-level finder (standard), sport finder
Light metering : TTL metering
Visual field : 90%
Shutter speeds : T, 1-1/500sec.
Focusing device : helicoid focusing
Body dimensions : 138x120x152mm
Body weight : appox. 1700g.

---