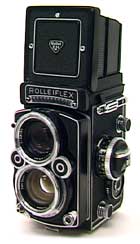 one of the most prestigious TLR of all.
It looks full of dignity.
RolleiFlex 2.8F

This, introduced in 1960, is the most popular TLR camera not only among the Rollei TLRs but also of all.

Specifications and instructions are here.

Most of the specifications is the same as RolleiFlex 3.5F that was released a year ahead of it, featured built-in follow-the-needle type exposure meter which couples with shutter speed and aperture. With this model, the Rollei TLR reached to its goal - The perfection of the TLR camera.
On the secondhand market (in Japan), the price for this is about 200,000 yen, and which attracts many fans since the price for the latest model is about double.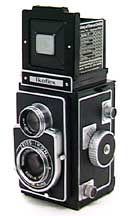 Ikoflex IIA in the figure above.
In addition, there's a model named IIa...
Confusing, is it?
Ikoflex

The W.W.II had caused extensive damage to Zeiss-Ikon, and after that when Germany was split into two countries, it restarted its business in the west.
Like the Contax camera against the Leica's, the Ikoflex was released against the Rollei TLR camera. The first TLR camera, Ikoflex Original was introduced in 1934.
As a result, Ikoflex had never gone ahead of Rollei TLRs as the operation of it often confused the user. But it still was a great draw for those who liked and trusted Zeiss-Ikon, and because of its excellent-performance taking lens.

Specifications and instructions are here.