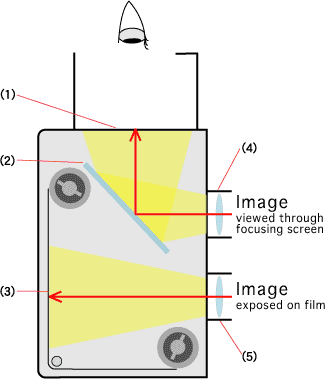 (1)...Focusing Screen

You can see image that you are going to expose on film, and focus on subject through the focusing screen. When subject is in focus on the screen, it will be exposed on film in focus.


(2)...Mirror

Mirror is located at 45 degrees angle behind the view lens. This mirror transports the image from the view lens to the focusing screen. And when the image comes on the screen, it will be horizontally reversed. This is because it is to be reflected at the mirror to reach the focusing screen.


(3)...Film surface

Almost the same image that you see on the focusing screen will be exposed on the film surface. But because the image is through the taking lens (and not the view lens), parallax occurs fundamentally. Most TLRs introduced after 1950's is equipped with parallax correction mechanism.


(4)...View Lens

The image on the focusing screen comes from the view lens, and this lens is needed when you focus subject.


(5)...Taking Lens

The image exposed on film comes from the taking lens. This lens is coupled with the view lens, so when you focus subject through the view lens, it will automatically focus on the subject.