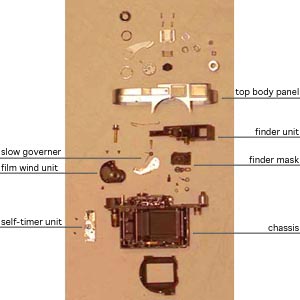 Here we, Mediajoy established the Leica Repair Club.
What we are aiming in this club is to exchange and release the informations as to from the simple maintenance to the repair on various cameras including Leica, which has many fans worldwide, to all of you who try to do them by yourself.
As for the entrance to the Leica Repair Club, all you have to do is to fill your name and E-mail address in the application form below. It's totally free and also there is no restriction. First, feel free to mail us the questions and the troubles about your camera. We would like to hear what your troubles are and the feature in this site depends on your request. Moreover, we will answer your question as much as possible by e-mail. And also we would like to hear your impressions and hopes on this site anytime.
For those who become a member of this club, we are planning to send the informations about a way of repairing a camera, the topics related to the camera and the secondhand camera preferentially.
First of all, we put the picture which shows the structure of Leica M3 (a left picture). It is interesting only to watch it and the structure of it seems to be simple at a first glance.
The feature of the fifth is the cleaning of the finder of Leica 3f.
We hope it can help you.


Notice
These contents are provided free of charge, and , therefore maintenance of
your camera refering to the contents of Leica Repair Club is solely at you own risk.
Mediajoy has no responsibility of any kind including damage of camera,
trouble of camera and secondary or indirect damages.