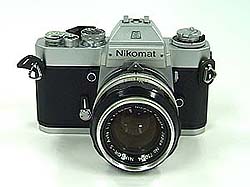 Nikomat series was launched in 1965 as the succession model of Nikkorex F.
Although they were thought to be a second camera of Nikon F, its mechanism is not less sophisticated than that of Nikon F.
On Nikomat EL, the shutter speeds knob at the lens mount on the camera body, which is one of the feature of Nikomat series, was moved to the top cover, and that made easier to use both Nikomat EL and Nikon F, F2 at the same time. For that reason, this was popular among not only amatures but also professionals.
And also, this is one of not many Automatic-Exposure cameras that non-Ai lenses are available.
Later, Nikon FE took over a lot from Nikomat EL.
In recent years, this camera regains populararity because of its sophisticated mechanism.
Six models were manufactured as Nikomat. Refer to Nikomat series (in Nikomat FTN page).



First presented in 1972.
Exposure meter : TTL full aperture metering
center-weighted light reading
aperture-priority AE
Film speeds range : ISO 12-1600
Shutter : Copal Square shutter
Shutter speeds : B, 4-1/1000sec.
Self-timer : built-in
Flash sync contact : FP, X
Film wind : lever
Film rewind : crank
Power resources : 6V, 4SR44 silver battery
Body dimensions : 145.5x94x98.5mm
Body weight : appox. 780g.
---