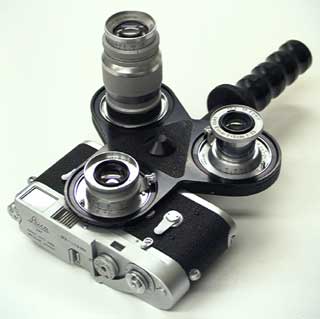 M Lens Turret Orolf
Introduced in 1960, and on the market only for one year.
Weight : 750 g.
Approx. numbers manufactured : 250
Orolf is 3 lens tarret for the Leica M2/M3 enabling faster lens exchange, and one of the rarest item among a large variety of Leitz' accessories.
It is large, and may not be comfortable to use with. We can easily imagine that the sale's profit by it was much less than the gross cost needed for developing it since it was on the market only for one year, and thus became one of the most unprofitable product in Leitz' history. But on the other hand, it is the most desirable and satisfactory stuff if you have wanted it.
Although it was made for the Leica Ms, the lenses attached to it were the screw-in mount type.
Fig. Elmar 50mm f/3.5, Elmar 90mm f/4 and Zummaron 35mm f/3.5 on Orolf, attached to M2.