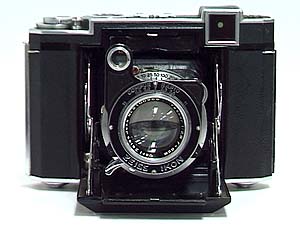 Zeiss-Ikon introduced the camera "Super VI" in japanese name (Super Ikomat B). And after its birth, it had been improved step by step and been manufactured since 1957.
One of the features of this camera is that the lens on this camera is "Tessar F2.8/50mm", whose resolution is very high, and also which is one of the excelllent lens in the history.
The camera itself is well constructed and very sophisticated.

First introduced in 1935.
Camera type : 6x6cm rangefinder folding camera
Camera body : alloy diecast
Lens : Tessar F2.8/80mm
Focusing : for-element focusing
Shutter : Compur Rapid
Shutter speed : B, 1-1/500sec.
Flash sync contact : M, X
Self-timer : built in the shutter
Body dimensions : 150 x 100 x 118mm
Body weight : approx. 980g.
---