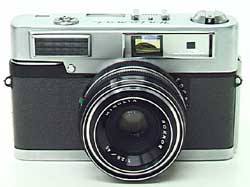 Yuniomat II came on the market in 1961 as a successor to Yuniomat (released in 1960).
Most of the structure, dimensions and weight of these two are almost the same with one exception that the shutter speed scale was not employed and only was the EV scale on Yuniomat II to cut down the manufacturing costs and the retail price.
The appearance of the camera is so simple, for the film wind lever is located not on the camera top, but between the top cover and the camera body, and the large exposure window on the camera top can be seen easily.
The control of exposure is also easy that, after setting the film speed with the EV ring (ASA 6 - 1600), all you have to do is to hold the camera to subject, and set the matching needle to the index that the meter indicated.
In addition to this, this camera was also sold in the U.S under the name of Anscoset II by Ansco.

Well then, let's take a look at it.

First introduced in 1961.
Camera type : rangefinder camera with built-in follow-the-needle type exposure meter
Lens : Rokkor TD 45mm f/2.8
Shutter : Optipar Yuni Citizun, self-timer provided.
EV range (shutter speeds) : B, EV6 (f2.8, 1/8 sec.) - EV 18 (f16, 1/1000 sec.)
Flash sync contact : M, X sync.
Exposure meter : follow-the-needle type selenium meter
Focusing : for-element focusing, double-image superimposing rangefinder
Finder magnification : 0.76x
Body dimensions : 137 x 80 x 73mm
Body weight : 700 g.
---