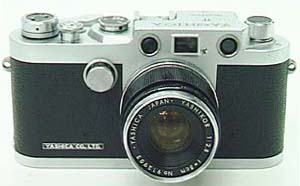 Yashica YE was originally launched under the name of Yashica E in 1959.

The year before that in May, Yashica (now Kyocera) made an agreement with Nicca Camera group, which had been one of the long standing manufacturer of 35mm focal-plane shutter rangefinder camera in Japan, about the Nicca merged into the Yashica group. But instead of being merged into Yashica group soon after that agreement, Nicca launched another company named Taiho Optics. This was because the company executive of the Nicca, Yoshimasa Ushiyama, received admonition from a religionist whom he believed in that the Yashica itself might be declined if all the transfer was made immeadiately.
After all, eight years passed when all the employees of the Nicca finally transferred to the Yashica.

Taiho Optics incorporated new technologies for improving productivity such as innovating automatic machines, standradization of parts, and simplified assembly process. However, some of the skilled hand-craft engineer had to quit due to the automation.
Not many of them, though, are still working at Kyocera today.

Well, Yashica YE, the first 35mm focal-plane shutter rangefinder camera of Yashica, succeeded to all the features of Nicca 33 except the name plate on the camera front and was released at lower price. Appearance design, specifications and functions were very much same as Nicca 33.

Well then, let's take a look at it.

First introduced in March, 1959.
Camera type : 35mm focal-plane shutter rangefinder camera
Shutter : focal-plane shutter wiht cloth curtain, two-axis two dial shutter
Shutter speeds : B, X, 1/2 - 1/500 sec.
Flash sync contact : FP, X sync
Viewfinder : reversed Galilean finder
Finder magnification : x 0.5
Finder coverage : 85%
Rangefinder : double-image superimposing rangefinder
Bese length : 57mm
Film transport : by the film wind lever on the camera top, ratched winding enabled.
Rewind : by the rewind knob on the camera top
Frame counter : manual setting, forward counting counter
Lens : Yashikor 50mm f/2.8
Lens mount : Leica screw-in mount
Body dimensions : 148 x 47 x 72mm
Body weight : approx. 760 g.
---