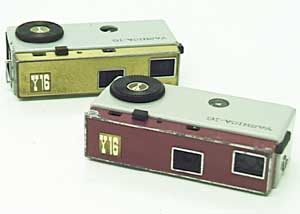 In 1959, Yashica launched its first 16mm camera, Yashica 16 with six patents and fifteen utility models.
Featured on this camera was named "Clip Load". The film magazine can be inserted into the camera as if the magazine loaded into the pistol, and soon after that you are all set to shoot.
And also the camera was provided in five colors - yellow, coral, deep red, gray, charcoal gray, and so you could choose your favorite color's like you do on iMac.
The lens employed on the camera is Triplet-type fixed-focus Yashinon 25mm f/3.5, and the shutter speed range is B and between 1/25 and 1/200 sec.
One thing to note on this camera is that you have to learn some tip when inserting the film into the magazine. We'll see that later.

In addition to this, the flashgun, filter set, developing tank, printer, projector were included with the camera.

Well then, let's take a look at it.

First introduced in May, 1959.
Picture size : 10 x 14mm
Lens : Yashinon 25mm f/ 3.5 (fixed focus lens)
Shutter speeds : B, 1/25 - 1/200
Film transport : by the film wind knob
Viewfinder : reversed-Galilean finder
Finder magnification : 0.45x
Frame counter : forward counting automatic resetting frame counter
Film : 16mm film
Body dimensions : 105 x 35 x 51mm
Body weight : approx. 300 g.
---