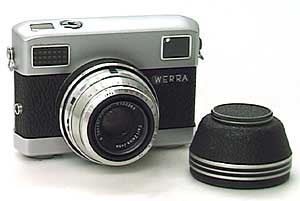 The featured camera for this time is "Werra".

Werra was a sort of a unique camera that it was developed and released by not Zeiss-Ikon but lens manufacturer, Carl-Zeiss Jena. It was well-known in Europe around 1950 to 1960.

The noteworthy feature of this camera is a way of winding the film.
On Werra, there is no film wind lever. Instead, the film is winded with the ring at the base of the lens. This is how it works: Turning this ring clockwise about 60 degrees transports the film to the next exposure, and also it charges the shutter. Winding operation of this is very smooth and easy.
For the shutter is charged at the same time as the film is transported to the next by turning the ring, there in no need to worry about the double exposures, but on the other hand, multiple exposures are not taken with this camera.

One other feature of this is a unique design of its appearance.
Buttons and other projections on operation around the camera body was omitted as much as possible, and its body design impresses a large number of people.
Various models were manufactured from around 1954 to 1961 under the name of Werra. Among them, Werra I, which was the first model of Werra series, was such a simple camera that it had only viewfinder on the top cover of the camera. And following cameras, too had a simple but a beautiful body design as well as Werra I.
On the earlier model of Werra series, the color of the leather covering with the camera body was in black but in moss green, and also the top cover of them was not a round shape but a flattop-shaped one. Furthermore, the design of lens hood, which also can be used as lens cap, is different from ordinary ones.
All these facts makes Werra different and original.

Well then, let's take a look at it.

First introduced around 1954 to 1961, by Carl-Zeiss Jena.
Camera type : 35mm leaf-shutter camera
Camera body : aluminum diecast
Lens : Tessar f2.8/50mm
Viewfinder : reverse-Galilean direct-view finder
Finder coverage : 0.8x
Shutter : Prestor RVS (with Self-timer and X and M sync), behind-the-lens shutter
Focusing : rotating helicoid, visual distance estimation
Closest focusing distance : 0.8m.
Exposure meter : celenium meter
Film winding : by the film wind ring (at the base of the lens)
Rewinding : by the rewind crank (on the base plate)
Frame counter : forward counting & manual resetting type
Body dimensions : W117 x H72 x D74mm
Body weight : approx. 480g.
---