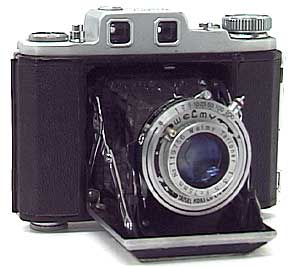 The featured camera for this time is 6 x 6cm folding camera, "Welmy VI".
This camera was manufactured in 1951, by Taisei Kouki, Japan, and equipped f3.5/75mm lens.

The original name of Taisei Kouki was Fuji Kougaku, and had been manufactured inexpensive camera. After the W.W.II, the company name was changed from Fuji Kougaku to Taisei Kouki, and launched its first camera "Welmy VI".
Welmy VI had gone through several improvement step by step, and Welmy VI-E and Welmy VI-L were introduced as the successor models to it.

Well then, let's take a look at it.

First introduced in 1951.
Camera type : 6 x 6cm folding camera
Lens : Terionar f3.5/75mm
Shutter : Welmy (with flash sync contact)
Shutter speeds : B, 1-1/200sec.
Viewfinder : eye-level and waist-level finder
Focusing : front-element focusing
Body dimensions : 137 x 100 x 45 (98 when lens out) mm
Body weight : 620 g.
---