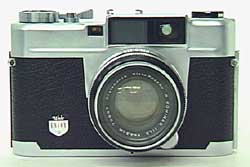 A Japanese camera manufacutere, Waltz & Co. launched its first SLR camera, Waltz 35 in 1955, and after that it introduced several 35mm SLR cameras one after another.

Envoy 35 is equipped with S Kominar 48mm f/1.9 while Waltz 35 SV, released in 1958, is with Waltzer 45mm f/2.8.
Envoy 35 incorporated the light value system that was popular in those days. This system enables shutter speed coupling aperture by setting exposure value in advance.

Well then, let's take a look at it.

First introduced in Aug. 1959.
Camera type : 35mm leaf-shutter camera
Film : 135 film
Picture size : 24 x 36mm
Standard lens : S Kominar 48mm f/1.9
Shutter : Copal SVL, built-in self-timer, MX sync provided.
Shutter speeds : B, 1 - 1/500 sec.
Film advance : film wind lever
Rewind : collapsible rewind crank
Body dimensions : 86 x 139 x 61mm
Weight : 750 g.
---