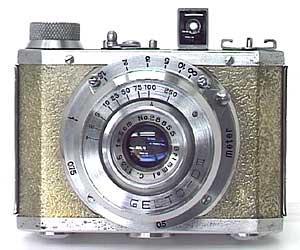 This, golden camera named "Silvergelto" was released in 1950.
This is 30 x 40mm format camera uses 127 film. In spite of its compact size, it is a kind of heavy when the camera is held.

Originally this camera had been manufactured and on sale before the war and won a large popurality as one of the good camera with the good lens. Although manufacturing line of it stopped during the war, it began and came back on the market again after it.
There are some improvements found on the later model from the earlier one as such that the rear cover is easily put off when the film is loaded. And Several varieties of this model, such as the one in black and the one with rangefinder, were released at the same time.
The lens fixed to the camera is Grimmel f3.5/50mm which has collapsible barrel, and focusing is mede through straight helicoid.
With 127 film, 16 exposures are taken on 30 x 40mm format.

This camera was featured several times on domestic camera magazine when it was released.

Well then, let's take a look at it.

First introduced in 1950 by Toa Kouki, Japan.
Camera type : 30 x 40mm format fixed-focus camera
Picture size : 30 x 40mm
Lens : Grimmel f3.5/50mm
Shutter speeds : T, B, 1/5-1/250sec.
Focusing mechanism : straight helicoid
Film : 127 film
Body dimensions : 77 x 96 x 67mm
Body weight : 510 g.
---