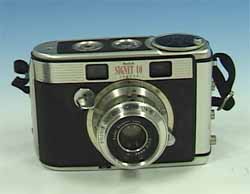 SIGNET 40 is the leaf shutter camera, introduced as the Kodak SIGNET series in 1956 after the production of Kodak 35 RF. While its structure and operation were similar to SIGNET 35, the material of the body chassis was changed from metal to plastic and the metalic body covers were around it. Also, the lens was changed from Ektar to Ektaner F3.5/46mm.
The big rewind knob gives the smooth operation of rewinding as the rewind crank.
The appearance of this camera is beautiful that the most of operation system was designed round shapes like the frame counter, film type indicator, rewind knob and so on.
It gives you the gorgeous impression especially when it equips with the rotary flash unit at that time.



First introduced in 1956.
Lens : Kodak Ektaner F3.5/46mm
Aperture : F3.5-F22
Shutter : Kodak Synchro 400 shutter, with double-exposure prevention
Shutter speeds : B, 1/5-1/400sec.
Viewfinder : double-image superimposing
Film wind : lever
Film rewind : crank
Body dimensions : H126 x W86 x D76mm
Body weight : appox. 458g.
---