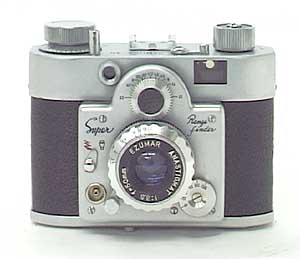 The camera for this feature is "Samoka 35 Super" introduced by Samoka Camera Co.,Ltd.
The brief history of Samoka 35 series is as follows: The first model named "Samoka 35 I" came on the market in 1952. It had a square nameplate on which "35" was engraved on the camera top, and was equipped with flash sync contact (although which was not yet the accessory shoe). After a short time in 1953 when a small-type flashgun began to be introduced, the successor named "Samoka 35 II" which employed the accessory shoe in place of the nameplate was launched. And after that in 1955, the third model ("Samoka 35 III") whose focusing mechanism was improved to straight helicoid was launched.
Samoka 35 Super was the first rangefinder model among the series.
In addition to this, Samoka Camera Co.,Ltd had also been manufactured the 35mm-format TLR camera.

Well then, let's take a look at it.

First introduced in 1956.
Camera type : 35mm-format leaf-shutter camera
Lens : C Ezumar Anastigmat f3.5/50mm
Shutter : Samoka Camera original shutter
Shutter speeds : B, 1/10 - 1/200sec.
Aperture range : from f3.5 to f22
Viewfinder : double image superimposing rangefinder
Framecounter : manual setting
Film winding & rewinding : by the film wind and rewind knob.
---