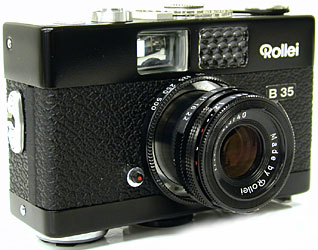 3-Dimentional Image
QuickTimeŞ is needed to see the image.
While Rollei 35 launched in 1966 made a great seller, other camera manufacturers, followed its success, introduced compact 35mm cameras which were far cheaper than Rollei 35, and some of them were at about a half-price of Rollei 35.
Under those circumstances, Rollei developed Rollei B35 - an intermediate version of Rollei 35 in 1969.
Listed belows are major differences between Rollei 35 and B35.


Built-in meter was changed from Cds meter to Selenium meter.
Slowest shutter speed was changed from 1/2 to 1/30 sec.
Aperture & shutter dial's positions were changed.
Lens was changed from Tessar (& Xenar on later model) to Triotar.

Although Rollei B35 is a kind of a downgrade version, we can find several attractive points that the camera body was lightened about 100 g from 370 g to 265 g because the material of the body was changed from metal to plastic, and the battery is not needed for exposure meter on Rollei B35.

Well then, let's take a look at it.

First introduced in 1969.
Camera type : 35mm leaf-shutter camera
Picture size : 24 x 36mm
Lens : Carl-Zeiss Triotar 40mm f/3.5 (three groups, three elements)
Shutter : Rollei Prontar
Shutter speeds : B, 1/30 to 1/500 sec.
Viewfinder : reversed Galilean finder
Finder magnification : 0.7x
Focusing : visual distance estimation
Closest focusing distance : 0.9m
Exposure meter : matching needle type celenium meter
Film speed range : ISO 25 to 1600 (EV 8 to 18)
Flash sync contact : no built-in sync provided.
Accessory shoe : built on camera bottom
Film winding : by film wind lever
Rewinding : by rewind crank with R-button
Frame counter : automatic resetting type frame counter
Body dimensions : 97 x 32 x 58mm
Body weight : 265 g.
---