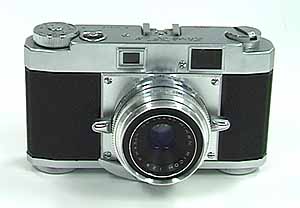 RICOH produced around fifty kinds of cameras for twenty seven years, from 1953 to 1980.
This is quite the number compared to thirty five by Minolta, and twenty by Konica, and this fact shows that RICOH invested a large amount of labor improving their products time after time.

RICOH 35S was introduced four years after they had begun producing 35mm leaf shutter camera.
Its structure was about same as RICOH 35 New Deluxe, came in the market an year before, except that RICOH 35S equipped with Riken shutter and the fucusing levers were at each end of the focusing ring.



First introduced in Feb. 1957.
Lens : RICOH F2.8/45mm
Focusing : rangefinder
Shutter : Riken shutter
Shutter speeds : B, 1/10-1/300sec.
Flash sync contact : X
Film speed range : ASA 25-400
Film wind : knob or trigger
Film rewind : crank
Body dimensions : 140 x 83 x 63.5mm
Body weight : appox. 675g.
---