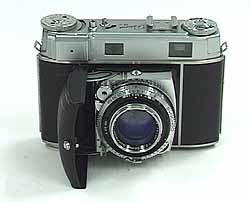 It was when 135 size film (35mm format film) was presented for the first time to the public that the first Retina, 1 was launched, and It is said that this fully promoted the development of this series.
Among the series, Retina 3c, introduced in 1954, is one of the most popular one even for now and has a built-in photo-electric exposure meter for the first time.
There are four models of 3c - the models with a dual-range meter and with a single-range meter, the models with an enlarged viewfinder, and reproduction models manufactured only 120.

Exposure meter : dual-range selenium meter
Lens : Retina-Xenon 50mm/f2
Shutter : Synchro-Compur
Shutter speeds : B, 1-1/500sec.
Body dimensions : 135x87x46mm
Body weight : appox. 650g.

---