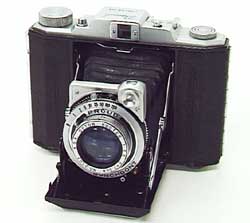 The featured camera for this time is Proud Chrome Six II.
This is both 6x6cm and 6x4.5cm format folding camera.
Both formats are available by adjusting the thin metal plate in the film room. And the film counting window on the camera back is switchable for each 6x6 or 6x4.5cm format.

Proud had been the camera manufacturer (that manufactured helicoid focusing rangefinder camera for the first time in Japan in 1937) before the W.W.II. But after the war, the manufacturer changed to Sumita Optics and it had manufactured cameras under the name of Proud since then. Therefore, Proud Chrome Six II was manufactured by Sumita Opticsin 1951.
In addition to this, Proud Chrome Six III (rangefinder version) was also launched in the same year.

Well then, let's take a look at it.

First introduced in 1951.
Camera type : 6x6cm and 6x4.5cm folding camera
Lens : K.S.K. Opton Hocter 75mm f/3.5
Shutter : Synchront (self-timer provided.)
Shutter speeds : B, 1-1/2000 sec.
Viewfinder : direct-view and reflex finder
Focusing : front-element focusing
Body dimensions : 100 x 135 x 100mm
Body weight : 600 g.
---