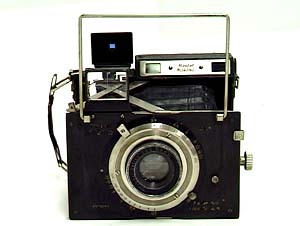 The camera we introduce for this time is a compact sized clap camera, Plaubel Makina II, manufactured by Plaubel, Germany. The beautiful appearance of it has attracted fans of the classic camera for a long time.
As you see the appearance of it, it was used as the press camera when it was launched, and for that reason, there are sereral unique structures that the present cameras doesn't have.

Plaubel Makina was first introduced in 1920, as the first 6x9cm format camera of Plaubel.
After that, Plaubel had improved Makina series several times such as Makina II in 1933, and in 1960, Makina IIIR with built-in sync contact for the last model.

In addition, Plaubel Makina 67 was launched as the successor to the Plaubel Makina series.

Camera body : light alloy diecast
Picture size : 6x9cm format
Anticomar f2.9/100mm
Shutter : Compur-Shutter
Shutter speeds : T, B, 1-1/200sec.
Focusing system : by lensboard extension, rangefinder
Body dimensions : 131 x 103 x 122 (lens out), 45 (lens in) mm
Body weight : approx. 920g.
---