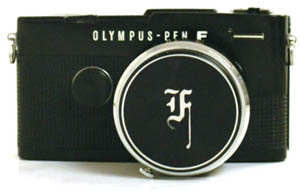 Olympus Pen F is the world first half-frame 35mm SLR camera succeeding to the Pen series which had been a big seller. Olympus Co.,Ltd. realized compact pentaprism and refined appearance on it in spite of restrictions on manufacturing SLR camera. Olympus Pen FT, the camera featured for this time, was launched in 1966 which was three years after the first Pen was first introduced. Function and structure were vastly upgraded on Pen FT, and one of the major improvements was that it employed built-in TTL meter which indicates adequate aperture value according to the shutter speed set at that time once you hold the camera to subject. This system was called TTL number system. And other improvements were as follows :


Built-in self-timer was added.
Larger size mirror was employed.
Film wind lever was changed to one-stroke lever.
Microprism was employed for focusing screen.

Well then, let's take a look at it.

Camera type : half-frame 35mm lens-shutter SLR camera
Lens : H Zuiko 42mm f/1.2
Shutter : metal rotary focal-plane shutter
Shutter speeds : B, 1 - 1/500 sec.
Flash sync contact : M, and X sync.
Focusing : by visual distance estimation
Finder : porro-prism finder
Finder magnifications : 0.8 x
Finder coverage : 92 %
Focusing screen : microprism
Film wind lever : one-storke, 150 degrees.
Body dimensions : 127 x 69.5 x 62.5mm
Body weight : approx. 600 g.
---