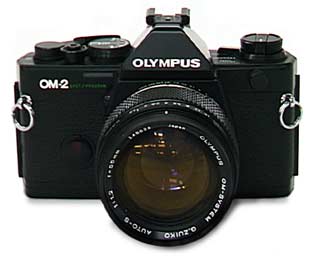 3-Dimentional Image
QuickTimeŞ is needed to see the image.
Nine years after the first OM-2, the last model in the series, OM-2 SP was launched in 1984.
On this model, programmed AE mode, and manual exposure mode with spot metering was employed, and the light-detect aperture-control system was newly developed and incorporated to make it possible for previously released Zuiko lenses to be used in programmed AE mode.
Although the camera had both manual exposure and programmed AE mode, basic controls were almost same to the others in the series.
In addition, the OM-2 SP was available only in black.

Well then, let's take a look at it.

Fisrt introduced in October, 1984.
Camera Type : 35mm focal-plane shutter SLR camera
Picture Size : 24 x 36mm
Lens Mount : OM mount
Shutter : electornically controlled focal-plane shutter
Shutter Speeds : B, 1 to 1/1000 sec.
Viewfinder : Fixed pentaprism finder / LED exposure indicator provided.
Finder Coverage : 97 %
Exposure Control : Aperture-Priority AE, Programmed AE, Manual Exposure / Center-Weighted metering, Spot metering for Manual Exposure
Film Speed Range : ASA 12 to 3200
Built-in Self Timer : electornically controlled self timer / 12 sec. for timer.
Film winding : Film wind lever on camera top
Rewinding : Collapsible rewind crank
Body dimensions : 136 x 83 x 50mm
Body weight : 460 g.
---