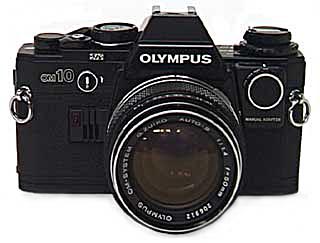 3-Dimentional Image
QuickTimeŞ is needed to see the image.
Olympus OM-10 was launched in 1979 which was the same year as the OM-2N came on the market. Although it was a popular model, TTL metering was enabled on the camera since it employed photocell located at the bottom of mirror chamber.
On the OM-10, only aperture-priority AE was available, and for that reason, the manual-exposure adapter for it was provided as an option. There was only one dial on this adapter, but it made it possble to set shutter speeds 1 sec. to 1/1000 sec.

Well then, let's take a look at it.

First introduced in June, 1979.
Camera Type : 35mm focal-plane shutter aperture-priority AE SLR camera with electronic shutter
Picture Size : 24 x 36mm
Lens Mount : OM mount
Shutter : electronically controlled focal-plane shutter
Shutter Speeds : B, 1 to 1/1000 sec.
Viewfinder : Fixed pentaprism finder / LED exposure indicator provided.
Finder Coverage : 93 %
Exposure Control : Aperture-Priority AE / Center-Weighted light reading
Film Speed Range : ASA 25 to 1600
Film winding : Film wind lever on camera top
Rewinding : Collapsible rewind crank
Body dimensions : 136 x 83 x 50mm
Body weight : 430 g.
---