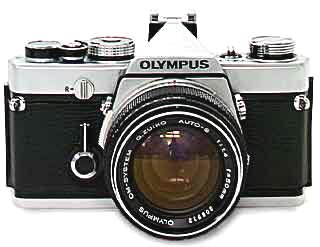 3-Dimentional Image
QuickTimeŞ is needed to see the image.
Olympus OM-1, introduced in 1972 as Olympus' first SLR camera, originally came on the market under the name of M-1. But it was soon renamed to OM-1 since there existed Leica M series, and therefore the camera with "M-1" engraved on it have been a collector's item since then.
Comparing to other manufacturer's SLR cameras, its body dimensions of W136 x H83 x D86mm and the weight of 720 g. with 50mm lens attached was extremely compact and light then. This was because that Olympus had originally dealt with developing microscope, medical instruments and such, and it is said that the camera could be made smaller if they would do that.
The camera body was designed based upon ergonomics, and body dimensions were calculated from a large amount of data on a hand holding a thing. Olympus' policy about the camera body's design and size is found here.
An upgrade version named OM-1 MD to which motordrive could be attached was introduced in 1974. On the OM-1 MD, the connector for the motordrive was newly added on the base cover, and also the serial number was changed from the one of the OM-1. In addition, the OM-1 needs some of its parts to be changed at manufacturer to attach the motordrive.

Well then, let's take a look at it.

First introduced in July, 1972.
Camera type : 35mm focal-plane shutter TTL SLR camera
Picture size : 24 x 36mm
Lens mount : OM mount
Shutter : horizontal-travel focal-plane shutter
Shutter speeds : B, 1 - 1/1000 sec.
Flash sync contact : FP, X
Viewfinder : Fixed pentaprism finder
Finder coverage : 97 %
Metering : Center-weighted light metering
Film speed range : ASA 25 to 1600
Film winding : Film wind lever on camera top
Rewinding : Collapsible rewind crank on camera top
Body dimensions : W136 x H83 x D86mm
Body weight (with f1.4/50mm lens) : 740 g.
---