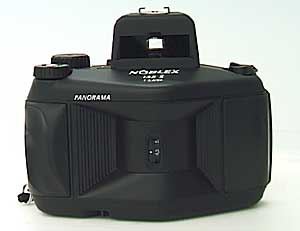 The featured camera for this time is Noblex 135 S, 35mm panoramic camera manufactured by Noblex, Germany.

On this camera, a slitted drum is rotated by means of the motor around the lens once the shutter is released. The drum adjusts the rotating speed on the first half of rotation, and exposes light through the slit, and then the lens to the film on the last half of rotation. A resulting image is fine, and vibration by the drum rotation is very little.

While a picture size of normal 35mm camera on panoramic mode is 13 x 36mm which is gotten by cutting out both vertical ends of 35mm film, the one of Noblex 135 S is 24 x 65.5mm.
The appearance of its body is unique in details, and at the same time simple in overall.
One feature of this camera is that the lens can be risen up to 4 mm.

Except Noblex 135 S, there are 135 U (135 S + Time Exposuring) and 135 N (Shutter speeds between 1/60-1/500sec. and no lens movements) as the Noblex 135 series, and also Noblex Pro 6 series which is 50 x 120mm panoramic camera uses 120 roll film on the market.

Well then, let's take a look at it.

First introduced in April, 1995.
Camera type : 35mm panoramic camera
Picture size : 24 x 65.5mm
Lens : Noblar T f4.5/29mm
Shutter speeds : 1/30-1/500sec.
Viewfinder : direct-view finder (with level), visual distance estimation
Power resources : AAA type battery x 4
Body dimensions : 165 x 65 x 130mm
Body weight : 930g.
---