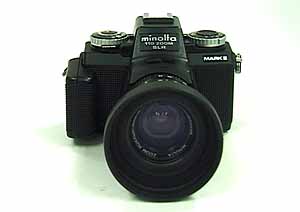 In 1976, Minolta introduced a unique 110 cartridge zoom camera - 110 Zoom SLR, that adopted not pentaprism but porro-mirror in the viewfinder, and then it took Minolta four years of time to present the successor model to 110 Zoom SLR.
110 Zoom SLR mark 2 thus came on the market in 1980.
Different from the previous model, 110 Zoom SLR mark 2 employed pentaprism, and TTL meter was built in it. Also, the camera body was made smaller.
Other feature of it is that macro lens is built in the zoom lens and this macro lens can be used at any focal length between the zooming range (25-67mm).

First introduced in Sep. 1980.
Camera type : 110 cartridge TTL automatic exposure SLR camera
Picture size : 13 x 17mm
Lens : Zoom Rokkor Macro f3.5/25-67mm (ten-group, twelve-element)
Viewfinder : fixed-pentaprism eye-level finder
Focusing screen : split-image in the center, matted the rest
Metering : TTL full-aperture metering, center weighted light reading
Exposure compensation : -2 to +2 EV
Shutter speeds : B, 1/4-1/1000sec.
Self-timer : built-in
Flash sync contact : X
Mirror : quick return mirror
Power resources : LR-44/A76, or G-13(SR-44), 1.5Vx2
Body dimensions : 75 x 105 x 102mm
Body weight : approx. 485g.
---