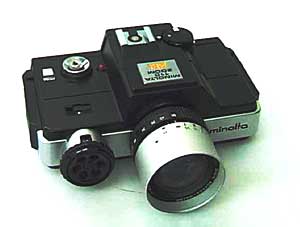 In 1972, Eastman Kodak introduced 110 cartridge camera, Kodak Pocket Instamatic camera. And after a few years, Minolta, like many other camera manufactures then, began to entry into 110 cartridge camera market, and developed unique SLR-type camera with zoom lens.
This, Minolta 110 Zoom SLR which was launched in 1976 was its first model.

This camera has a zoom lens whose focal length is from 25mm to 50mm (approximately 50mm to 100mm in 35mm camera), and adopted porro-mirror instead of pentaprism.

Well then, let's take a look at it.

First introduced in September, 1976.
Camera type : 110 cartridge porro-mirror SLR camera with zoom lens
Picture size : 13 x 17mm
Lens : Zoom-Rokkor f4.5/25-50mm
Light metering : external metering system, aperture-priority automatic exposure
Shutter : horizontal-run focal-plane shutter with metal curtain
Shutter speeds : B, 10-1/1000sec.
Flash sync contact : X
Body dimensions : 132 x 53.5 x 108mm
Body weight : approx. 430g.
---