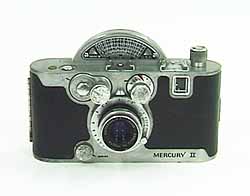 For this time, we introduce you MERCURY 2, which looks a little bit different from other cameras.

As you see, there are not only the half-moon shaped stuff jutted out on the top, but also some protuberances on the front. What's more is that the size of this is almost same as usual 35mm format cameras, although this is the half-frame 35mm camera. MERCURY 2 was made by Universal Camera Corp., U.S.A. and this corporation manufactured various kinds of products from the plastic camera to the ones for military use such as the 8mm format camera, the projector and the binocular telescope. Among their products, MERCURY 2 is one of the high-class article.

Let's see how it works.

Made by Universal Camera Corp., U.S.A
Camera type : half-frame 35mm focal-plane shutter camera
Camera body : aluminium diecast
Viewfinder : reverse-Galilean finder
Lens : tricor F2.7/35mm, screw-in mount
Shutter : focal-plane rotary shutter
Shutter speeds : B, T, 1/20-1/1000sec.
Focusing system : straight helicoid, separate rangefinder
Body dimensions : H95 x W140 x D60mm
Body weight : 600g.

---