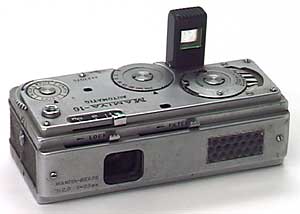 In Japan, toy cameras like the midget camera or micro camera had been popular since around 1930's. And after the war, the midget camera such as "Steky", "Mamiya 16", Konan 16 Automat" were begun to be manufactured by camera manufactureres like Richo, Mamiya and Minolta.

Mamiya 16 had been undergone several model changes time after time, starting with Mamiya Super 16, then type II, and type III, and then to Mamiya 16 Automat which was introduced ten years after the first model.

The picture size of 10 x 14mm, it uses 16mm film and utilizes of the double film magazine connected by a bridge. Although the film magazine with 16mm film set inside had been on the market until 1978, unfortunately it is not being manufactured now and acquiring it is so hard.
The body size of Mamiya 16 Automat is a little bit larger than the previous models because it employs the built-in follow-the-needle type clenium exposure meter. Other changes from the previous ones are that the direct-view finder is changed to the collapsible Albada bright-frame finder, and the lens from Cute f3.5/25mm to Mamiya Sekor f2.8/25mm. Others are mostly same as the previous model such as most of the operation devises are located on top of the camera.

What is inconvenient with this camera is the frame counter that it is not automatic-resetting type so that it has to be reset by making blind exposures over ten times before loading the film.

Although it had been said that it was the one of two standards (another is Konan 16 Automat) of 16mm camera, it ended with Mamiya 16EE Deluxe introduced in 1962 due to the appearance of the 110 cartridge camera.

First introduced in August, 1959.
Camera type : midget camera using 16mm film
Picture size : 10 x 14mm
Lens : Mamiya Sekor f2.8/25mm (three-group, three element)
Viewfinder : collapsible Albada bright-frame finder with parallax correction mark
Focusing : for-element focusing
Distance : 0.3m to inf.
Shutter : mechanical leaf shutter, self-cocking mechanism
Shutter speeds : B, 1/2 - 1/200sec.
Flash sync contact : X
Exposure meter : follow-the-needle type clenium meter
Body dimensions : 104 x 32 x 48mm
Body weight : 273 g.
Others : Light yellow filter is built in.
---