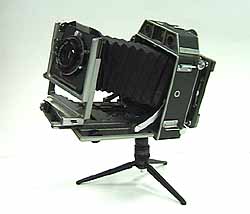 Horseman 970 is the 6x9cm format (also 6x7cm and 4x5" format available) rangefinder technical camera introduced in 1963, by Topcon.
The lens unit can be folded into the camera body even if the lens is attached to the lens board, and the camera looks a compact rectangular parallelepiped shape when folded, which makes it convenient to carry out, and also duarable to the shock. The lense, too are surprisingly compact compared with those of 35mm SLR cameras. These are the principal elements when going out to shoot nature and scenery with lots of stuff other than the camera.
Other thing to mention is that camera movements are available when focusing with the focusing screen, which corrects the distortion of the subject, and this is indispensable for such as the architectural or merchandise photography.
These are the features of the technical-type cameras and it can be said that the technical-type cameras is as all-around as the SLR cameras.
Any lenses other than Topcon's are available to this camera by attaching the lens board for them.
Unfortunately, the Topcon lenses are not manufactured now, although those were high-resolution and excellent lenses.
Note: Use the focusing screen to focus when attaching other manufactures' lens on it, for the rangefinder doesn't work with other manufactures' lens.

Camera type : 6x9cm format technical camera
Lens changing : with lens board
Shutter : leaf shutter
Shutter speed : B, 1-1/500sec.
Focusing : double-image superimposing, or adjusting with extension knob through the focusing screen
Viewfinder : direct-view finder
Rangefinder : double-image superimposing rangefinder, 1x
Flash sync contact : V, X, M
Film back : roll film holder 1-4 type, 6x9cm Polaroid back, sheet film holder
Film winding : two-stroke
Body dimensions : 160 x 192 x 97mm (When folded.)
Body weight : appox. 2kg.
---