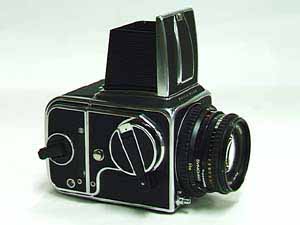 All the structures on Hasselblad 500CM are mechanical, so there is no need to worry about battery remainings and such other things. And the noteworthy feature of this camera is that this is the first camera of this type adopted interchangable systems of the lens, viewfinder, film back, which have beee the original form of this type of camera until today. One other thing attracting those who uses Hasselblad camera is a large number of Carl-Zeiss lens system from ultra-wide to ultra-tele lenses.

Camera type : 6x6cm leaf-shutter SLR camera
Film : 120 roll film/12 exp.
220 roll film/24 exp.
70mm film/70 or 500 exp.
Sheetfilm/8 exp.
Poraloid film/8 exp.
Viewfinder : interchangable (Standard : foldable waist-level finder)
Lens : Carl-Zeiss T*Planner C F2.8/80mm (Standard lens)
Film back : interchangable
Focusing screen : interchangable (Standard : split-image I)
Focusing : straight helicoid
Shutter speeds : B, 1-1/500sec. with built-in self-timer
Body dimensions : 104 x 109 x 170mm
Body weight : 1390g.
---