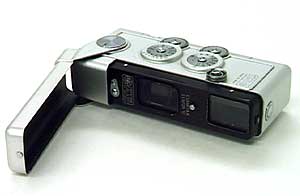 Gami 16 is a micro camera using 16mm film manufactured in Italy by Galileo, Milan. It can take 30 exposures of 12 x 17mm format on the film and the film magazine for 16mm film is needed to take a picture with this camera.

One noteworthy feature of this camera is the film transportation and the shutter charging mechanisms. One open-close operation of the front cover transports the film and charges the shutter for three exposures, means that the shutter has to be released three times before charging it next. The lens on the camera is Esamitar f1.9/25mm. The shutter is the guillotine shutter and shutter speeds are B, and from 1/2 up to 1/1000sec. The shutter makes a kind of strange sound when it is released. This is the sound of the shutter spring working inside. And the viewfinder is the rangefinder.
The camera employs a built-in meter and that indicates the exposure in the viewfinder.
One thing that has to be kept in mind when using Gami 16 is that releasing the shutter without the film in the camera is not to be made. The reason is that there is possibility that the shutter curtain won't be worked correctly, for the power of the spring inside is too strong. And it is hard to get the camera fixed back because the structure of the camera is too complicated.

Various kinds of system accessories such as telephoto lens, close-up lens and flash were provided with Gami 16.

Well then, let's take a look at this.

First introduced in 1954 by Galileo, Milan.
Camera type : micro rangefinder camera using 16 mm film.
Picture size : 12 x 17mm
Lens : Esamitar f1.9/25mm
Shutter : guillotine shutter
Shutter speeds : B, 1/2 - 1/1000 sec.
Viewfinder : rangefinder, parallax is automatically corrected
Film winding : open-close operation of the front cover, each for three exposures
Frame counter : automatic-resetting forward-counting type
Body dimensions : 116 x 30 x 56 mm
Body weight : 280 g.
---