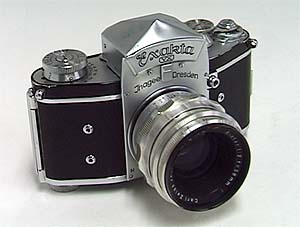 Exakta VX was launched in 1951, which was fifteen years after the world first SLR camera, Cine Exakta was introduced by Ihagee, Dresden.

Ihagee started to adopt the interchangable viewfinder system on SLR cameras from Exakta VX while, in those days, most of the finder on SLR cameras were the waist-level finder. The available finders for Exakta VX were such as pentaprism, waist-level finder with magnifier and binocular finder for the stereoscopic photography.
The lens mount on Exakta cameras were called "Exakta mount" and various camera manufacturere used it for thier SLR camera, and for that reason a large number of lenses for Exakta mount were supplied worldwide then.

The unique feature found on Exakta VX is that the film cutter is fixed in the film room and the film can be cut by means of that between photographing. We will explain more of this later.
Also, other useful devices such as self-timer or slow shutter are built in this camera.

First introduced in 1951.
Lens mount : Exakta bayonet mount
Lens : Biotar F2/58mm
Focusing system : straight helicoid
Shutter speeds : T, B, 1/25-1/1000sec.
Film wind : lever
Viewfinder & Focusing screen : interchangable
Flash sync contact : M, X
Self-timer : built-in
Body dimenstions : 148 x 90 x 75mm
Body weight : approx. 900g.
---