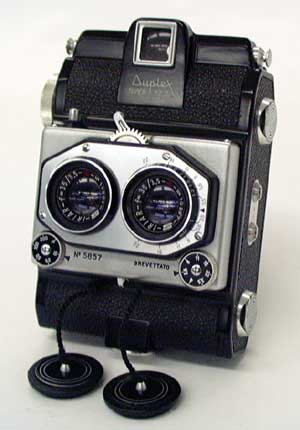 Duplex Super 120 is a compact-size stereoscopic camera launched in 1956 by I.S.O (Industria Scientifica Ottica) in Italy.
This was the successor model to Duplex 120 which came on the market in 1950, and mass-produced.
(One of the other cameras in this type mass-produced in those days was the Japanese-made "Stereo Rocca".)
While the most of stereoscopic cameras uses 35mm film horizontally, this uses 120 roll film vertically.
One thing that you may as well keep in mind when in use of this camera is to choose subject at closer distance, for the range between two lenses is narrow comparing with them on Stereo Realist (which tends to lose perspective).

Well then, let's take a look at it.

Picture size : 23 x 25mm
Film : 120 roll film (24 exp. can be taken.)
Lens : 35mm f/3.5
Aperture : 3.5, 4, 5.6, 8, 11, 16, 22
Shutter speeds : P (B), 1/10, 1/25, 1/50, 1/100, 1/200 sec.
---