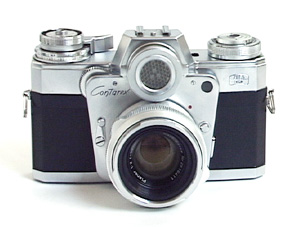 Contarex, first introduced by Zeiss-Ikon at "Fotokina" in 1958, was launched as the world-first 35mm SLR camera incorporated with built-in celenium meter that coupled with shutter speed and aperture.
Full-metal body gave the camera the style of king, and its standard lens, "Planner 50mm f/2" was known as the high-resolutional lens with best quality.
The body and standard lens' dimensions and weights are as follows :


Body dimensions : W153 x H98 x D63mm
Body weight : 910 g.
Lens dimensions (Planner 50mm f/2) : 63 x 44mm
Lens weight (Planner 50mm f/2) : 230 g.
---