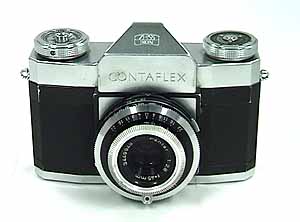 CONTAFLEX was first launched in 1953. Although the lens system is not interchangable, there were still several varieties of focal length for this camera by changing the for-element of the lens. And this is not such a camera that needs battery, for it doesn't have a built-in exposure meter, and so this can be used for a long time with the maintenance when needed.

Several lenses such as Tessar or Pantar, are fixed on this camera. (The camera we used for this feature was the one with Pantar.)

While the quick return mirror is the most popular mirror mechanism among SLR cameras, this uses a different one that the mirror stays up even after the shutter is released and by turning the film wind knob sets it back. In other wards, the film wind knob does not only charge the shutter but also advance the film to the next frame and return the mirror.

CONTAFLEX 2 was introduced the year after CONTAFLEX, that equips with the selenium meter. And the lens became interchangable on the later model of CONTAFLEX 2.

In addition, the stereoscopic adapeter was prepared as the accessory for the camera.

First introduced in 1953.
Camera type : 35mm format SLR camera, automatic diaphragm
Lens : Zeiss Tessar F2.8/45mm, Pantar F2.8/45mm (for-element focusing)
Viewfinder : pentaprism
Focusing screen : split-image, condenser lens
Exposure meter : not built-in
Flash sync contact : V, X, M
Shutter : Synchro-compur
Shutter speeds : B, 1-1/300sec.
Self-timer : built-in
Body dimensions : 127x93x67mm
Body weight : appox. 660g.
---