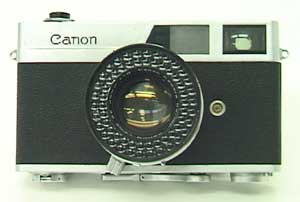 Canonet is Canon's first popular-class camera released in 1961. (Up until then, all the Canon's camera was high-end class and expensive.)
Although the camera industry went into an uproar against the low-set price of less than 20,000 yen that was said absurd, but because of that, Canonet made a great hit after all that one-week worth of stock was sold out in only two hours.
One story tells its disturbance around it that the copy of "Go to hell! Canonet." was inserted in "Syukan Bunsyu" - the popular japanese magazine.

The camera itself was made quite well that it had a fast 45mm f/1.9 lens, and shutter-speed priority EE which the beginners could easily handle with.

Well then, let's take a look at it.

First introduced in January, 1961.
Camera type : 35mm lens-shutter rangefinder camera with shutter-speed priority EE
Picture size : 24 x 36mm
Lens : SE 45mm f/1.9
Viewfinder : Coincidence rangefinder integrated with reversed Galilean viewfinder
Exposure : Auto (EE), and Manual Exposure
Film speed range : ASA 10 -200 (in a Clear, Dull and Room)
Shutter : Copal SLV
Shutter speeds : 1 - 1/500 sec.
Self-timer : ten-second running timer
Film winding : One-stroke of 100 deg. with camera-bottom trigger
Body dimensions : 140 x 78 x 64mm
Body weight : approx. 700 g.
---