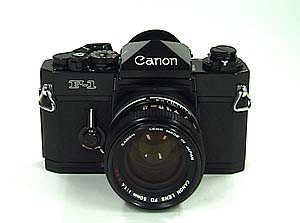 It was the F-1 that Canon inc. invested a large amount of money and labor in producing it and took five years of time to go into production of a highly durable and reliable camera with which the users could photograph wherever they were, even under difficult conditions.
As a result of using highly durable materials, the camera was built to endure 100,000 picture-taking cycles, temperatures ranging from -30 C to 60 C, and 90% humidity.

The various kinds of accessories were prepared for the camera including the newly designed FD lenses, and the FD lens mount which equips with the sequential and automatic correction mechanism, and also the remote picture-taking system were developed for the camera.

In 1976, the F-1N was introduced as an upgrade of the F-1.
The revisions were as follows:


Operation arc of film wind lever decreased from 180 deg. to 139 deg.
Film speed range was increased from ISO 2000 to ISO 3200.
PC terminal had a fastener to prevent the PC cord from disconnection.
Film type indicator was added on the rear cover.

Refer to Differences between F1 and F1N.



First introduced in March, 1971
Picture size : 24mm x 36mm
Lens mount : FD mount (both FD and FL lens available)
Viewfinder : Interchangeable eye-level pentaprism
Exposure meter : CdS cell for TTL full-aperture / stopped-down-aperture metering, center weighted light reading
Film speed range : ISO 25-2000
Shutter : two-axis, focal plane shutter with titanium curtain
Shutter speeds : B, 1-1/2000sec.
Self-timer : built-in
Flash sync contact : FP, X
Film wind : lever
Film rewind : crank
Power resources : 1.3V HD mercury cell
Body dimensions : 146.7x98.7x43mm
Body weight : appox. 820g.
---