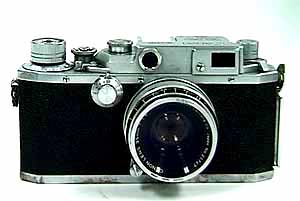 It was 1946 when Canon started producing rangefinder camera. And as Canon, being conscious of Leica which was the strongest rival in business, introduced new products one after another, thier producing method of it was certainly getting riper and among them, this, Canon 4Sb would be the most sophisticated, and also one of the historic model in Japan's camera history.

Canon 4Sb is the world first camera of its kind to feature X-sync for flash.
Other features of this are as follos: Viewfinder provides with three-step variable frames for the focal length of 50, 100, 135mm. Standard lens is the fast lens, F1.5/50mm which is one of the masterpieces among Serenar and Canon lenses. There is stopper for slow shutter dial which prevents it from rotating by accident.

Two years after 4Sb marketed, Leica introduced M3, which changed everything and gave enormous shock to Japan's camera manufacturer, for its performance was far beyond the other rangefinder cameras. Thus, 4Sb2 was produced and came in the market as the successor to 4Sb.

4Sb and 4Sb2 are popular and there are around one hundred thirty kinds of accessories available even for now.



First introduced in 1954.
Camera type : 35mm rangefinder camera
Standard lens : Canon/Serenar f1.5/50mm, f1.8/50mm
Viewfinder : reverse-Galilean viewfinder with three-step variable magnifications
Exposure meter : not built-in
Shutter : focal-plane shutter
Flash sync contact : FP, X
Body dimensions : 140 x 72.2 x 67mm
Body weight : approx. 790g.
---