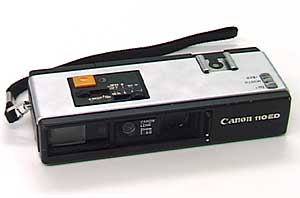 Pocket Instamatic camera (110 cartridge camera) that was introduced in 1972 by Eastman Kodak Co. gave an enormous shock to the camera market worldwide that a picture of 13 x 17mm format can almost match one of 35mm format in quality. The Pocket Instamatic camera is a compact-size version of the Instamatic camera which was introduced in 1963 and took a picture of 28 x 28.5mm format on 35mm film.
The film loading operation on Pocket Instamatic camera is easy. All you have to do is just inserting the 110 cartridge in the camera.

Soon after the Pocket Instamatic camera was introduced, Canon Inc. started developing it, and produced "Canon 110ED" which was lauched in March, 1975. It has the rangefinder, f2/25mm of the fast lens and the date imprinting mechanism. And also, it employs the aperture-priority automatic exposure system, and the aperture is selected by means of the pictographs. The shutter speeds are from 8 sec. to 1/500sec. and the hot shoe that is directly connected to the X sync is on the camera.

As Canon 110 series, Canon 110E that didn't have the rangefinder and the date imprinting mechanism was launched at the same time as 110ED, and Canon 110ED 20 whose shutter speeds increased up to 1/1000sec. and the film speed available for which was ISO 400 was launched in 1977.

Well then, let's take a look at it.

First introduced in March, 1975.
Camera type : leaf-shutter Pocket Instamatic camera
Picture size : 13 x 17mm
Lens : Canon lens f2/25mm
Shutter : electronically-controlled shutter
Shutter speeds : 8 - 1/500sec.
Flash sync contact : X
Viewfinder : reverse-Galilean finder with birght frame, double image superimposing rangefinder built in
Finder magnification : 0.61x
Finder coverage : 84%
Exposure meter : aperture-priority AE utilizing clenium photo cell, EV -1 to 17
Film speed : ISO 800
Power resources : 6V, 4LR44
Body dimensions : W142 x H28 x D55.5mm
Body weight : 195 g.
---