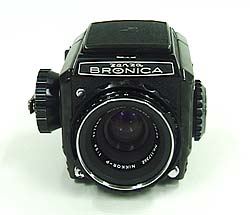 For this time, we introduce you 6x6cm format SLR camera, BRONICA S2.
When thinking of 6x6cm format camera, it would have been the Hasselbrad or Rollei that came to mind first. And in 1972, ZENZA BRONICA produced BRONICA S2, the first japanese-made and high-quality 6x6cm format camera. Before that, ZENZA BRONICA had manufactured several types of them, which were such as BRONICA D; the first camera prodeuced by ZENZA BRONICA, BRONICA S; the advance model of BRONICA D, BRONICA C; the popular version of BRONICA S, had no interchangable film back. BRONICA S2 inherited the strong points of their accumulated experiences through the D, S, C types and launched as the high-quality, functional camera. Some people called it "Japanese Hasselblad".
One of the feature mechanisms of BRONICA S2 is quick return mirror. While most of quick return mirrors built in SLR camera pop up when the shutter is released, that in BRONICA S2 slides down at an angle to the front and that enables to attach more the wide lenses and the fast lenses to this camera than the other 6x6cm format SLR cameras.
And the lens system is unique that Nikkor lenses are interchangable with this camera, and also this camera has interchangable double bayonet lens mount and the inside of that lens mount is screw-in mount that enables to make use of the other lenses by means of the adapter.
Other noteworthy feature is that the film back is both for 120 and 220 roll films only by switching the lever so that not need to buy each film back at a time, especially the film back for 220 roll film, which is comparatively expensive. And the viewfinders are interchangable, too.
In addition, this has the mechanical shutter that you do not have to be worry about the battery when shooting.



First introdeced in 1965, by ZENZA BRONICA.
Camera type : 6x6cm format SLR camera with focal plane shutter, built-in quick return mirror
Lens mount : double bayonet lens mount with helicoid focusing system
Lens : Nikkor P F2.8/75mm (interchangable)
Shutter : focal plane shutter
Shutter speeds : B, X, 1-1/1000sec.
Flash sync contact : X, FP
Film : 120 and 220 roll film (film back interchangable)
Viewfinder : interchangable
Body dimensions & weight : H100x W100x D140mm, 1780g.
---