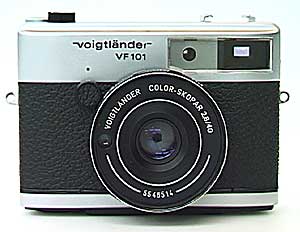 The camera for this time is Voigtlander VF 101 which is a reproduced model of Contessa S312 introduced in 1972 by Zeiss-Ikon. In fact, Rollei Werke reproduced it and introduced under the name of "Voigtlander". It had been manufactured at Rollei Singapore until around 1976. In addition, body colors available were black and silver.

The major differences between them are that : The shutter speeds of VF 101 are 4-1/500sec. while those of S312 are 8-1/500sec. The lens is Color-Skopar f2.8/40mm fixed onto the camera front, and it is coupled with the rangefinder in the camera body. The easy loading system is employed for the camera so that the film can be easily loaded.

Well then, let's take a look at it.

First introduced in 1974.
Camera type : 35mm compact AE camera
Lens : Color-Skopar f2.8/40mm
Exposure : aperture-priority automatic exposure
Shutter speeds : 4-1/500sec.
Focusing : double-image superimposing rangefinder
Film speed range : ASA 25-400, DIN 15-27
Body dimensions : W102 x H73mm
Body weight : approx. 450g.
---