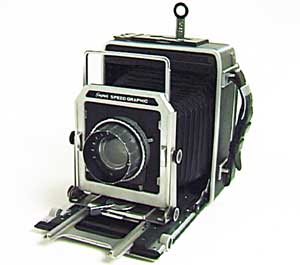 The birth of the famed press camera, Speed Graphic was back in 1912.
The earlier model known as "Top Handle" was equipped with Graphic Spring Back, collapsible front door and carrying handle on the camera top. The shutter speeds ranged from T and 1/10 to 1/1000 sec. and four kinds of films were available on it. Even though it wasn't equipped with rangefinder, it was enough to become the base model for the followings.
In 1928, 4 x 5 pre-Anniversary Speed Graphic was introduced. This model newly employed rangefinder and Kodak or Schneider lens. The viewfinder replaced the carrying handle which was shifted to the camera side and the bellows were changed from tapered type to straight type.
After that, Graflex produced Revolving Back Speed Graphic, Miniature model, Anniversary model, Pace Maker, Crown, Century and the last model in the series, Super Speed Graphic in 1958. Through the numbers of model changes, the camera body of Super Speed Graphic was refined pretty well using metal instead of wood, yet most of functions were just succeeded to those of the earlier models.
While the Speed Graphics had helped the press a lot for its extremely tough body and simple operation, it's got lost the power on the camera market as the 35mm roll film became popular. And now, they are used for nature photography or such as a handy 4 x 5 in. format camera.
In addition, Japanese camera manufacturer, Sakai Special Camera factory got the license from Graflex to manufacture and sell Super Speed Graphic as "Toyo Press" in Japan.

Here, we are going to take a look at the last model in the series, Super Speed Graphic.
This was equipped with the revolving back, and the first and the last model that employed metal for the camera body. The shutter was Graflex-1000 built in the lenses like Graflex Optar 135mm f/4.5 or Tele-Optar 270mm f/6.5.
---