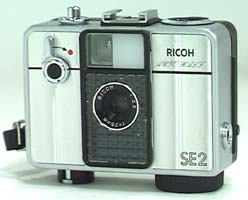 This is the half-frame 35mm camera that was popular around 1970's, when Osaka international exposition was being held. The reason why the camera was popular is easy. The mechanisms of it, such as the fixed-focus or the auto-winding by means of a spring, is such a simple ones that everyone can use it with ease.

Also, one of the feature of this camera was its design on the front panel.
Such as a colorful optical art work, commemorative ediiton of Osaka international exposition and beautiful flowers, etc. were available, and for that reason it is now popular among young people who weren't born when this camera was born.

RICOH AUTOHALF SE2
First introdeuced in 1976.
Camera type : shutter-speed-priority automatic exposuring half-frame 35mm camera
Lens : F2.8/25mm
Exposure meter : selenium solar cell, shutter-speed-priority AE
Shutter speeds : Auto-1/125sec., Manual-1/30sec.
Flash sync contact : X
Film winding : auto-winding by means of a spring
Film rewind : crank
Body dimensions : 90 x 70.5 x 30.3mm
body weight : appox. 270g.
---