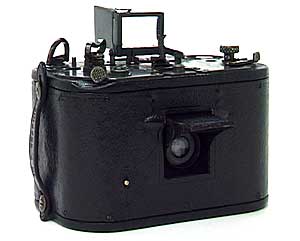 This is the box camera launched almost one hundred years ago by Eastman Kodak Co. and this was the smallest among this type of cameras then.

Most of the operations on No.0 Graphic are made on the camera top since the collapsible viewfinder, shutter release lever, aperture lever, film wind lever and slit selecting key are gathered on the camera top.
One of the features of this camera is its shutter mechanism. There are four slits (each of which is different in width) on the single cloth curtain of the shutter, and the combination of these four slits and six kinds of the spring tension for the shutter can provide the shutter speeds from 1/10 to 1/500sec.
The film used for this camera was originally the 121 roll film which is as same width as the 127 roll film. Unfortunately, neither one of these two films is on the market now. So, when you take a picture with this camera, you have to cut the 120 roll film out (about 6 mm.) to make it same width as the 121 or 127 roll film.

Well then, let's take a look at it.

First introduced in 1909 by Eastman Kodak Co.
Camera type : box camera
Materials : Camera body : wood
Rear cover : aluminum alloy
Lens : Kodak Anastigmat f6.3/72mm (fixed-focus)
Shutter : focal-plane shutter with single cloth curtain
Shutter speeds : T, 1/10-1/500sec.
Viewfinder : Newton finder
Film winding : by the film wind key on the camera top
Body dimensions : W131 x H93 x D89mm
Body weight : 725 g.
---