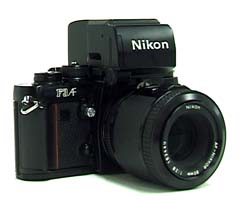 Nikon F3 AF

AF finder, DX-1 (adopting phase difference detecting method) is attached to Nikon F3.
Standard lens is AF Nikkor-S f2.8/80mm. Also, AF ED Nikkor-S f3.5/200mm is available.
Utilizing these AF Nikkor lens enables Nikon F3 AF to be used as an auto-focus camera.

Nikon F3 AF was Nikon's first AF camera, and developed upon its accumulated technologies on auto-focusing mechanisms. In those days, while auto-focus cameras on the market were mainly for amateurs, Nikon F3 AF was developed for the professionals. Nikon's policy on AF camera was that it made it much easier to photograph a subject which might not be able to be photographed without using it. In other words, it enabled to photograph a fast moving subject with ultra telephoto and telephoto lenses. After all, it made it possible to speedier focusing than that of professionals using a manual camera.
Unfortunately, the price of Nikon F3 AF was very expensive due to building the motor in the lens, and for that reason it wasn't so popular then.
In terms of the operation of it, it is not so good comparing to other Nikon's camera.

First introduced in April, 1983.
Camera type : 35mm SLR camera
Picture size : 24 x 36mm
Lens mount : Nikon F mount
Shutter : electronically-controlled focal-plane shutter with titanium curtain
Shutter speed : 8-1/2000sec. (Auto), T, B, 8-1/2000sec. (Manual), 1/60sec. (mechanical shutter)
Viewfinder : eye-level AF finder (interchangeable with other finder for Nikon F3)
Finder coverage : 100%
Finder magnification : approx. 0.8x (50mm lens)
Focusing screen : AF matte screen
Light metering : TTL full-aperture metering, center-weighted light reading
Body dimensions : approx. 148 x 101 x 69mm
Body weight : approx. 760g.

Well then, let's take a look at it.
And we focus on its AF function here.
---