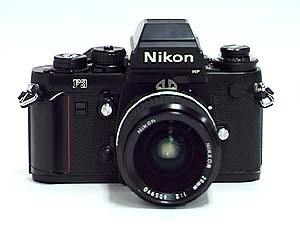 Nikon F3 was the first F series camera applying electronic technologies, which were cultivated and accumulated through the production of Nikomat EL and Nikon FE.

Nikon F3 came in the market as the aperture-priority AE camera with electronically controlled shutter. There can be seen various electronic technologies on F3. The shutter unit is controlled electronically, and also metering is changed to camera body metering. The shutter speed is controlled non-step from 8 - 1/2000sec. in aperture-priority AE mode. Also, LCD is used in the viewfinder for the informations about exposuring data.

All the more, by the request from NASA, F3 "Big" and "Small" were developed, and they were carried off to the universe.
F3 has remained on the market over twenty years since 1980 and attracting the people.
Also, it is still one of the most important cameras for the professionals.

First introduced in March, 1980.
Picture size : 24mm x 36mm
Lens mount : Nikon F mount
Shutter : electronically-controlled horizontal-travel focal plane shutter with titanium curtain
Shutter speeds : B, 8-1/2000sec. (Auto) T, B, 8-1/2000sec. (Manual)
Viewfinder : interchangable / eye-level finder (Standard), high-eyepoint finder (F3 HP), and others
Flash sync contact : X
Sync speed : up to 1/80sec.
Film speed range : ASA 12-6400
Self-timer : electronically controlled self-timer
Focusing : manual
Exposure meter : aperture-priority AE (SPD), center-weighted light reading
Film winding : film wind lever
Film rewinding : film rewind crank
Power resources : silver oxide battery (SR44) x 2
Body dimensions : 148.5 x 86.5 x 65.5mm
Body weight : appox. 700g.
---