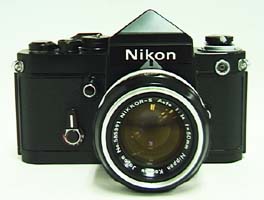 Nikon F2 was introduced as the successor to the long-selling model, Nikon F. As it took over high-quality mechanisms and the operation system from F, various improvements can be seen on F2 based on the accumulated experiences through F. A major change from F is the shutter mechanism. The shutter speed was increased to 1/2000sec., became stepless from 1/80 to 1/2000 sec.and also the flash sync speed was increased up to 1/80 sec. Beside Time exposuring from 2 to 10 sec. was enabled by utilizing the self-timer mechanism. Other changes found on F2 are that the shutter release button was shifted slightly toward the front as it of F was built rather on the backside on the camera top, and the hinged rear cover was adopted.
Several models were introduced as Nikon F2 series. The one is F2 eye-level that doesn't have a built-in meter, and the others are F2 with a photomic finder which enables TTL metering on F2. This photomic finder was improved step by step as Photomic S, Photomic SB, Photomic A, and Photomic AS.

There is no doubt that Nikon F2 is one of the perfection of a mechanical shutter camera ever made.

Camera type : 35mm focal-plane mechanical shutter camera
Picture size : 24 x 36mm
Lens mount : Nikon F mount
Viewfinder : interchangable
Finder coverage : 100%
Shutter : horizontal-run focal-plane shutter with titanium curtain
Shutter speeds : B, T, X, 1-1/2000sec.
Self-timer : mechanically controlled, 2-10sec.
Flash sync contact : X, 1/80 sec. of sync speed
Film wind : lever
Film rewind : crank
Body dimensions : W152.5 x H98 x D56mm
Body weight : 700g.
---